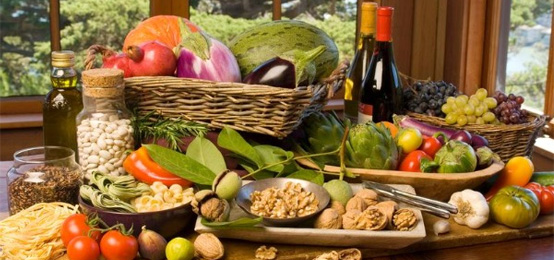 What is the Mediterranean Diet?
The Mediterranean Diet Pyramid was first introduced to the public in 1993 by Sara Baer-Sinnott, president of the nonprofit food and nutrition group Oldways. She states that "The Mediterranean Diet is a lifestyle where good taste meets good health". There isn't a single Mediterranean diet. This food program is more about ingredients, ingredients that are being gathered from every region across the Mediterranean Sea, from Spain to the Middle East.
Most of the foods are fresh, seasonal whole foods that are not being artificially processed by any means. Also, preparation of these foods is simple and clean. Deep frying is rarely a cooking method when it comes to a diet like this one.
What are the ingredients of a Mediterranean Diet?
The foods included in the Mediterranean diet plan are basic providers of micronutrients, antioxidants, vitamins, minerals and fiber. These function altogether to prevent chronic diseases from occurring. They include vegetables, fruits, beans, whole grains, nuts, olives, and olive oil along with some cheese, yogurt, fish, poultry, eggs, and wine. Saturated fats, sodium, sweets and meat are rarely part of this diet plan.
Research has proven, thousands of times, that a diet rich in plants and healthy fats is perfect for a person to remain healthy and cleansed.
What are the health benefits of a Mediterranean Diet?
In the last 10 years, thousands of studies conducted around the health benefits of this diet have resulted in improved science and more clinical evidence. These studies have shown that following a Mediterranean diet protects against the development of heart disease, metabolic syndrome, some types of cancer, obesity, type 2 diabetes, dementia and Alzheimer's disease. More than this, it has been proven a healthy Mediterranean diet helps people live a longer life.
However, among these health benefits, it seems the most striking ones are the ones involving protection against cardiovascular disease and diabetes. This is done by keeping total cholesterol, LDL cholesterol, HDL cholesterol, triglycerides, blood pressure, and blood sugar at optimal levels.
The healthiest and most appreciated element in a Mediterranean diet is olive oil. It is what people mostly associate with this type of diet. However, it doesn't have to be any kind of olive oil, but the extra virgin one. Salads have to use only extra virgin oil in order to achieve the tastiest flavor.
Does The Mediterranean Diet Plan Work?
The Mediterranean diet is considered one of the best diet plans in the world. You don't have to be a native of the Mediterranean's areas in order to consume the foods they have there. If you continue to eat the healthy foods from those areas while keeping up a healthy physical exercise program, you will notice significant changes in your body. You will not only get healthier, but you will also drop all the unwanted weight down.
A recent study has shown how the Mediterranean diet produced 3.8 kg (8.4 lbs) more weight loss on average than the low-carb diet. 322 participants were involved in the study, which lasted for almost two years. The weight loss numbers were 12 lbs and 10 lbs, respectively.